Page Contents:
Suddenly It's Samhain
School of the Seasons: Harvest Links & Harvest Pack
School of the Seasons: Mid Autumn Moon
Traditional Foods of Halloween
The Veil Between Worlds
More "Spooky" Links:

A Pagan View of the Afterlife
Endings: Death Warmed Over
Beyond the Veil
Sounds in the Dark
ESP: Extra-Sensory Perception

Light a Candle for a Loved One
More Festivals and Holidays Links
Greatly shining,
The Autumn moon floats in the thin sky;
And the fish-ponds shake their backs
And show their dragon scales
As she passes over them.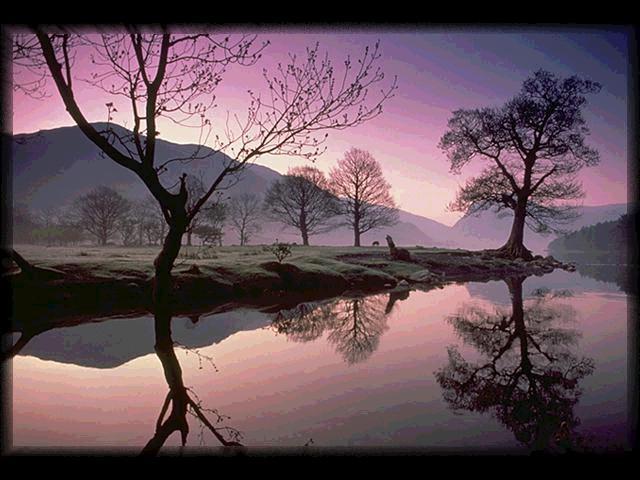 The days of summer have flown like the bats and birds in their annual migrations. Nights are growing longer, the weather is getting cooler, and autumn is announcing its arrival with a frigid bite, depending on where you live, reminding us that winter is growing near. The wheel of the year has spun around again to the witches' New Year, known to some as Samhain. If you're looking for more information on this holiday, or want ideas on how to celebrate,
this page
at About.com has rituals, recipes and more.
-- By Waverly Fitzgerald

I find research as intoxicating as wine. Which is why it's taken me so long to add links to my site. Every time I start exploring links, I get lost in cyberspace.
I finally decided to add links the way I create packets, one holiday at a time. So I've created a Harvest links section which lists links for more information on wheat weaving, home brewing and home wine making, three of the topics in the Harvest packet. You can view this new section, along with some of my favorite sites, at
School of the Seasons
.
I've also posted sample pages of the new material I added on wine making to
the Harvest packet
so those of you who got last year's packet can add this supplemental material and those who haven't ordered yet can get a taste of what the Harvest packet contains.
Living in Season: Traditional Foods of Halloween
by Waverly Fitzgerald
October 31, 2003 -- I write this dark is falling on All Hallow's Eve. I plan to spend a quiet evening at home carving my pumpkin, setting up my Days of the Dead altar and lighting a candle in each window at midnight to invite the spirits of my beloved dead to visit. As I wander from room to room, checking on the candles, I look forward to their company, which usually surrounds me with warmth, like the soft fluttering of the wings of doves.
Potatoes (perhaps because they come from under the ground or maybe just because they're harvested at this season) feature in many Halloween recipes. Corsicans eat Sciacce, small pies filled with cooked mashed potato seasoned with garlic, tomato sauce and grated cheese, bound with beaten egg on All Saints Day.

Sicilian children receive gifts of marzipan fruit from the ghosts of their ancestors during the Night of All Souls (Nov 1/2). This marizipan recipe come from Mary Taylor Simetti's book on classic Sicilian recipes co-authored with Maria Grammatico, who learned the art of pastry making in a convent.
Measure out 2 cups of granulated sugar.

Grind 2 cups of whole blanched almonds with 2 tablespoons of the sugar in a food processor, until fine, almost powdery.

Add the rest of the sugar, 1/3 cup water and 1/4 teaspoon vanilla (plus a teaspoon of almond extract if you want a stronger almond flavor) and blend until you have a very smooth paste.

Knead on a marble slab or other cold work surface dusted with confectioners sugar.

You can wrap the paste in plastic wrap and store in the refrigerator until ready to use.
When ready to make the fruit, dust your hands and a marble slab (or other cool work surface) with cornstarch and a pinch of cinnamon. Take a small piece of the marzipan, knead it briefly and shape it.
To color the marzipan, set aside fruit you intend to color pink or white (watermelon slices, strawberries, etc.) and "paint" the rest with a base coat of yellow food color, diluted with water until very pale. Dry for at least 4 hours or overnight.
Mix the food colors in saucers to achieve different colors. Start light and apply the darkest colors last. For a natural effect, remember that no fruit is all one color.
A tomato often has green near the stem; for an apple overlay green with red and/or yellow. For spots or speckles, dip a toothbrush in brown food coloring, hold it close to the fruit and run your finger over the bristles. To make peaches and apricots look fuzzy, rub them with a bit of cotton dipped in cornstarch.
Most Wiccans don't believe in heaven or hell, and other Pagan faiths have their own visions of the afterlife too. Where do we all go after we die?
All about death: from customs to superstitions; autopsies to obituaries, cemeteries to cryogenics. Facts, fancy, and humor.
Seance: A Round Table Discussion

Researchers, Mediums Study Communication with the Dead
Scary noises: auditory paraphenomena and EVPs.
Scottish Researchers Find Proof of Mediums' Ability