The Gathering of the Fellowship 2003
A Long Expected Party:
J.R.R. Tolkein fans will gather in celebration in Toronto in December 2003, and original fan-art will be displayed. Art will be judged by panel, with final judgment by fans attending the
Grand Event
. Prizes will be awarded in different categories. Rules for submissions are listed at the website. See what's been submitted so far at
The Gallery of Imladris.

Santiago says
, "My paintings are what dreams are made of." His dreams must sometimes be very uneasy.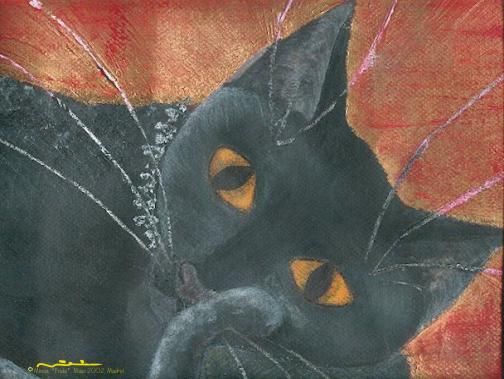 Vivid, dreamy multimedia images. Internationally flavored, the artist speaks the language of war and peace and the human condition.
About Cybermontage
Like the mixed-media technique of collage, clipped and sculpted images are manipulated and compiled using the computer technique we call 'cybermontage'.
Computer paint techniques are used to further tweak the assembled images until the piece becomes a unified whole with a message unique from its sources.

"Not what man knows but what man feels, concerns art. All else is science." ~ Bernard Berenson, 1897
The Web Gallery of Art
is an excellent resource for reproductions of of European paintings and sculptures created between the years 1150 and 1800. A search engine allows you to find pictures as well as biographies of artists.The Gallery also has virtual tours to help the browser to understand the artistic and historical relationships of artworks and artists in the collection.
Free Screen Savers and Greeting Card Graphics
Free Web Use Policy:
2nd Sight
's original art can be used not-for-profit as screensavers or greeting cards. Original art and articles can also be shared via the web providing that copyright credit is given to
2nd Sight
, with a link back to
2nd Sight Magazine
and you have sent an
E-mail the Editor
for info and approval. See
our page at Webshots
to send pix on this page and many more as e-greeting cards, or download their free screensaver program. 2nd Sight has no control over any of Webshots' services and does not endorse any ads you see at their (or this) site. 2nd Sight retains all copyrights on any original graphic or written content owned by 2nd Sight.