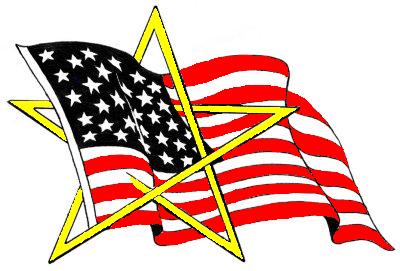 Patriotic Pagans
Despite differing opinions on war and faith, religious communities are rallying world-wide to support their military personnel who need and deserve the spiritual support of their communities at home. Pagans from many paths and places serve in the US military and are currently among those being deployed. In response to this, Circle Sanctuary is making available a Military Pagan prayer site which has a specially-designed graphic message and cards available for Pagans, especially for those on active duty. Pass this on. -- Thanks to Austin Pagans.
Pagans and War
"What about the Rede, you ask? The Wiccan Rede states "Harm None" -- wouldn't that apply to warfare? Don't forget that not all Pagans are Wiccan, and therefore not everyone follows the Rede. Even those Wiccans who do, may translate its meaning differently from others."
What is the Pagan position on war? Well, we don't all have the same attitudes towards any issues, and this is no different. Some are for, some are against. About.com's Pagan/Wiccan Guide, Terri Paajanen, shares her thoughts, and some other Pagan viewpoints too.
What Did We Learn From the '60s?
Modern-day protests draw a great deal from the Civil Rights Movement of the 1960s, but 21st century protesters have something new: technology. Read how lunch-counter protest tactics and the advent of the Internet make for a potent combination.
The Day the Pagans Died

* Sung to the tune of Don McLean's American Pie *

A long, long time ago, I can still remember
How the pagans used to help us smile
And I knew if I beat my drum, All the folks be glad to come
And maybe they'd be happy for a while
But now these Christians have us hurting,
All the pagans they're converting
No one's at the solstice, They're in the towns at Christmas
They don't remember Odin's tales, They memorize their Gospels
The goddess will remember well, The day her pagans died
They were singin' bye bye To the trees and the sky
Forget our holy circles We will worship inside
The village priestess Had to sneak off and hide
Singin' this 'll be the day that I die
And I met a bard of pagan tunes, I asked her to draw down the moon
But she just smiled and turned away
And I went out to a sacred grove, To try and find someone I'd know
But not a word was spoken, The holy stones were broken
And the tri-gods I admired the most,
The Huntsman, Goddess, and their host
Lived in secret down the coast, The day the pagans died.
-- Unknown, Courtesy Sweet Leaf as posted to Pagan Connections TX
10 Ways to Deal With War
Suspicion, backlash, anger, fear. Many marginalized groups -- Arab Americans, Muslims, peace activists -- will feel these emotions in the coming days. What can you do? Here are 10 things you can do to heal or avoid rifts during this time of war:
1. Speak up: Don't allow stereotypes and narrow-minded comments to go unchecked.
2. Educate yourself: Read about Iraq. Keep up with the news.
3. Be active: Join a group or a cause that you support.
4. Find help: If you are being harassed or threatened, find help through a human rights or civil rights organization in your community.
5. Offer support: In turn, if others are being targeted, offer support to the victims in whatever way you can.
6. Listen: Keep and open mind and listen with empathy to the people on "the other side" of issues.
7. Explore your own biases: Own your biases, and vow to work to lessen them.
8. Mix It Up: Create an environment for supporters from different sides to discuss their differences and their commonalities and keep it safe.
9. Be kind: Kindness has enormous power in times of war. Disagree, but do so humanely.
10: Catch your breath: Stress overtakes many people in times of crisis.
Take a
Hidden Bias Test,
and find out how your own biases affect the way you view the world, in times of war or peace.
-- Edited from the article at Tolerance.org