"I welcome these peace talks – who could oppose initiatives to end a conflict that has produced so many atrocities and taken so many Colombian lives. But to be successful, any agreement must ensure accountability for serious abuses." ~ José Miguel Vivanco, Human Rights Watch Americas director
After 50 years of rebellion against the Colombian government, the
FARC (Revolutionary Armed Forces of Colombia, aka The Army of the People
) and government forces under
President Juan Manuel Santos
have called a 2-month unilateral cease-fire. Peace talks in Havana Cuba have achieved the first truce in more than 10 years, but people in war-ravaged areas are taking the news with a grain of salt. A quarter of a million people have died, millions have fled war zones made unusable due to landmines, and the economy of the country has been seriously crippled. Most Colombians now support the peace process, though
corruption
and
social inequality
caused many to initially support the rebels' efforts to force change on the government, beginning in 1964 when FARC emerged as an agrarian-based communist movement. Santos' upcoming campaign for re-election in 2014 may depend on nurturing and sustaining this peace process. The FARC has lost popular support because of the high cost in human life and economic viability. It has agreed to cease attacks on infrastructure which have been a plague on the mining and oil companies, and the government has agreed to halt military actions so long as FARC keeps its side of the agreement. While negotiators are expressing optimism, the people of Colombia are not assured this cease-fire will last.
The Geopolitics of Immigration
Summary
The United States is a nation of immigrants. That is the ultimate cliche and the absolute truth. The debate under way in the United States over Mexican immigration probably reflects the oldest American debate: Are new immigrants a blessing or a catastrophe? But the Mexican border situation is unique, and controlling the movement of an indigenous population in a borderland whose frontiers do not cohere to social or economic reality is impossible.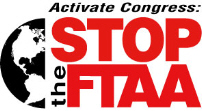 Stop the Free Trade Area of the Americas:
The promises of greater prosperity are merely the bait for the internationalist FTAA trap. And it is rotten bait at that since the resulting socialist regulatory bureaucracy would continue the process that is destroying the American middle class. It would also undermine any opportunity for the peoples of Latin America to increase their standards of living.
Double Dealing: Mexico and Cuba

The National Security Archive has published presidential audio tapes and a set of declassified U.S. White House and State Department documents revealing a secret "informal understanding" made between the Johnson Administration and the PRI government of Adolfo Lopez Mateos in 1964 that allowed Mexico to balk U.S. efforts to diplomatically and economically isolate the Cuban government of Fidel Castro. The documents also show that Mexican diplomats provided intelligence on the Cuban military, Soviet weapons shipments and the economy, among other issues, to the U.S. Embassy in Mexico City in the late 1960s.